Ring the Bell…Angry Gorilla!
Today the jungle fruit shop is busy and bustling once again. The shop's clerks, having too much to do, have started helping customers without checking the new inventory that has arrived. Even though they haven't checked the inventory, surely the other staff members have checked them already. But during all the excitement they ended up taking too many orders… When that happens, if someone rings the bell the shop manager gorilla will rush out of their office. If they find out about the over-sold orders……oh, it's too scary to think about! Watch out for the 3 gorilla siblings that are hanging around waiting to cause trouble!
Durian is the latest work from Masato Uesugi, game designer of "Paper Tales" and "Kaiju on the Earth". This is his third game with Oink Games following "Dungeon of Mandom" and "Dungeon of Mandom VIII".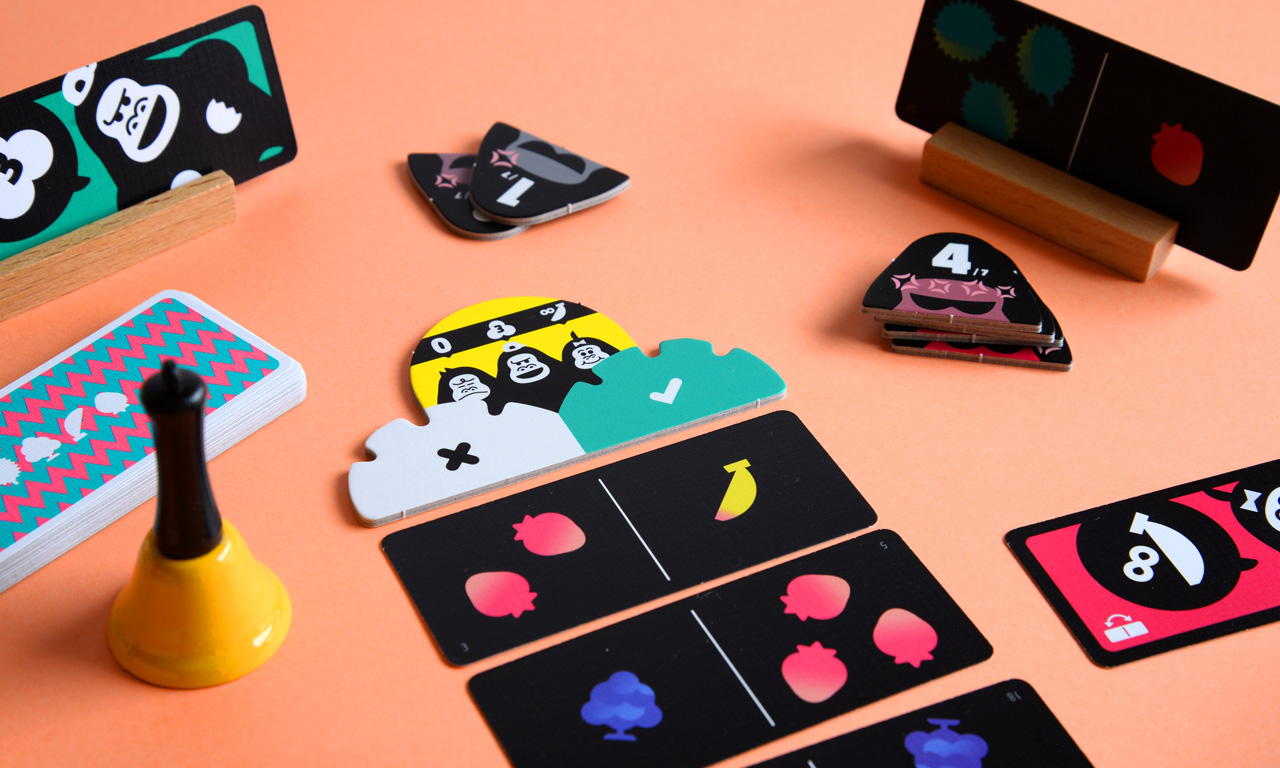 Players are shop clerks at a jungle fruit shop. Each person takes 1 card each and purchases some fruit, you can only see the other players cards and not your own. One card is unknown. During this, players are taking orders for fruit. There are two types of fruit on the order cards and players must choose to order one of them.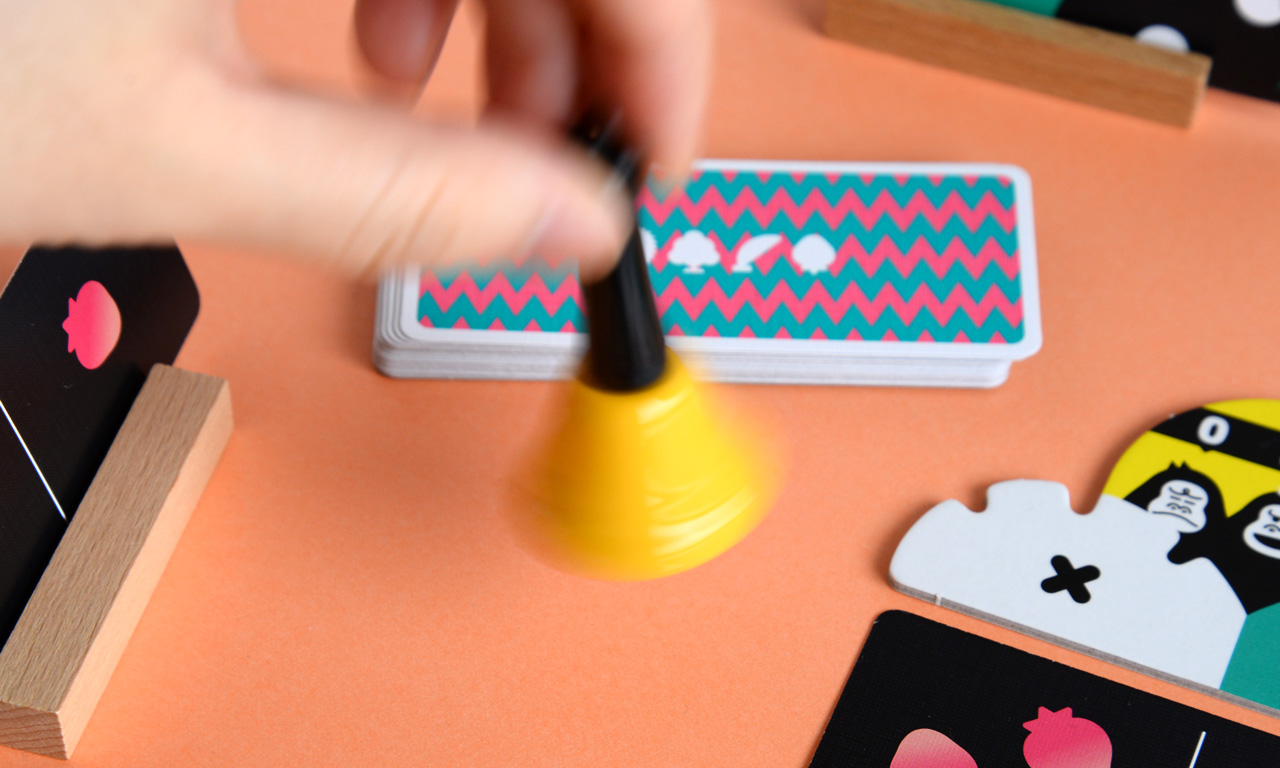 Of course eventually there will be too many orders. If you think there are too many orders ring the handbell and the manager will come over. A huge gorilla! If there are too many orders taken, the player that had the manager called on them will get reprimanded. But on the other hand, if there weren't too many orders taken, then the person that called the manager over will get in trouble. Keep doing this until it's game over when the manager's anger level reaches 7. The manager's anger level starts at 1 and goes up to 7, so if you get in trouble by a really angry manager you can lose in one shot…! The tension keeps rising! That's not all though. There are 3 mischievous gorillas causing trouble for the players.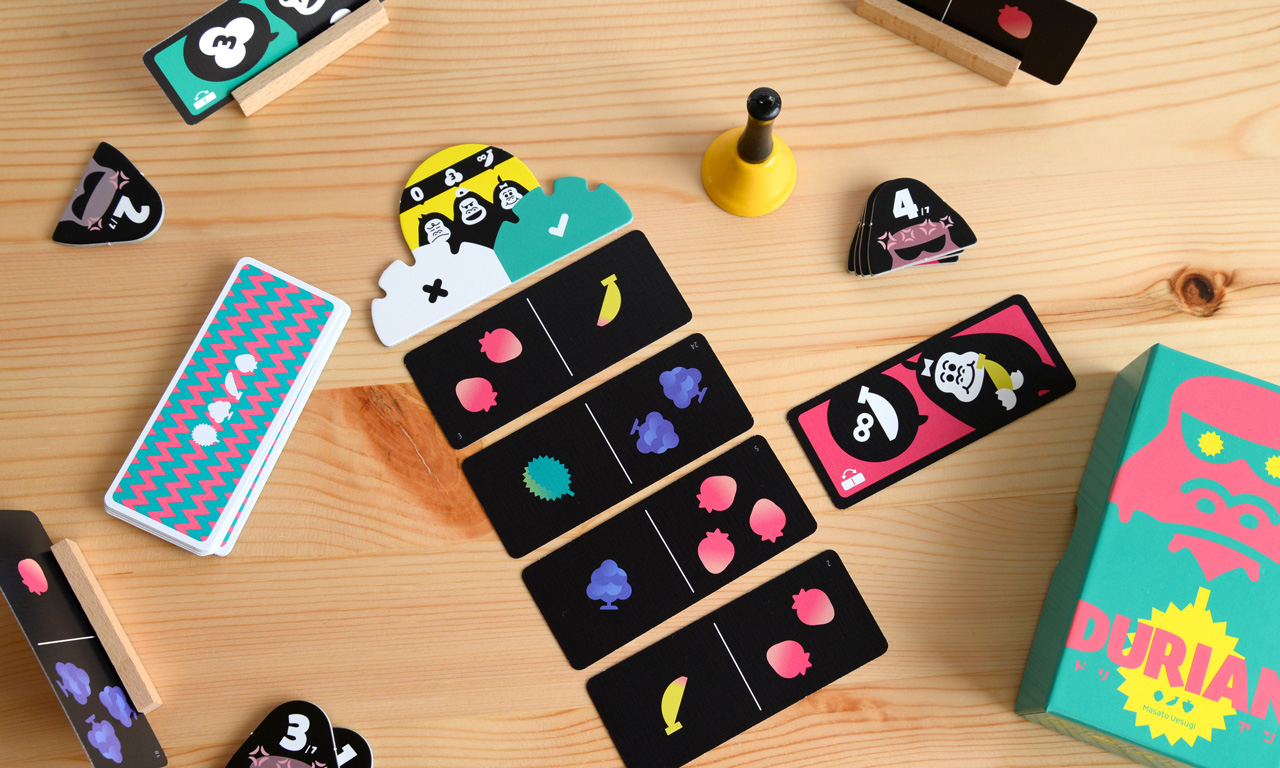 Packed in the usual, compact Oink Games box comes seven wooden card stands, a small handbell, and other eye-catching components. For 2-7 players, this is a game that's a lot of fun even for small children.