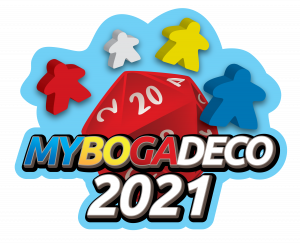 Malaysia Board Game Design Competition (#MYBOGADECO 2021)
Timeline:
Jun 5 – Sep 29 : Registration
Oct 4 – Nov 18 : Contest Period
Nov 19 – Nov 26 : Judging Period
Objectives:
Community Building and Networking.

Empowering Malaysian designers of ALL AGES.

Gathering attention to Tabletop gaming.
Entry Requirements, Terms & Conditions:itions:
Participants must all be Malaysian and Malaysian citizens.

Theme: Unity of Malaysia




(Must show the multi-cultural Malaysian aspect to the game. IE. food, people, places, culture, etc; Fellow Malaysians must be able to recognize the local culture)

Game duration must be below 1 hour. No restriction on player count and genre.

No Plagiarism. No Reskin. Submissions must be original work.

All entries must be developed during the contest period, any previous work that has already been published or extensively exposed to the public is not allowed to enter.

All rights to the games remain in the hands of the creator, even for the winners.

Participants are allowed to commission professional freelancers to make their prototype.

Participants are ENCOURAGED to consult the judges, organizing committee or any other established designers(even overseas designers) on their design. Reminder to approach them with courtesy and consideration.

2 categories:

Open (Public) and
Student (All educational institute including primary, secondary and tertiary, no separated category)

No limit to team members, no limit to amount of submissions, but only 1 winner will be chosen from each team / individual.

Final Entry Submission must include:

ONE(1) set of PHYSICAL prototype, including all components, a fully designed packaging box, and a rulebook. Postage to Centlus, Picassor or LUMA.
Playtest video starting with explanation of rules to players, until the game conclusion including playtester feedback. (Upload to Youtube, No time limit, at least 720p with clear audio, upload to Youtube.)
Promotional Video that is only 3 minutes long. (Upload to Youtube).

A4 Sellsheet.

The Organizing Committee's decision is final.

ALL entries' prototypes will remain with the organizers to be exhibited. Contestants may request for prototypes to be sent back but will incur postage fee.
Judgement:
70% from judges, 30% from periodic online voting during online voting.
Panel of Judges:
Choon Ean – Creator of Kaki Lima,

Hwa Siang – Creator of Vagrant Dash and etc,

Haireey Hashnan – Creator of Drama Pukul 7 and Nak Makan Apa,

Abdul Rahman – Creator of Monster Hero Academy,

Nisha – Creator of Rimba

Dr Charles Sharma Naidu – Game Studies Lecturer, Taylor's University

Xiu Hong – Founder of Centlus Board Game
Scoring Criteria

Scale

Theme-Concept

0-10

Creativity/Originality

0-10

Rules Ease to Understand

0-10

Immersion: Gaming Experience

0-10

Streamlined Gameplay
(Knowledge + Decision Making)

0-10

Replayability

0-10

Production Value (Component, Artwork, Illustration, Video Quality)

0-10

Public Voting FB Likes

Live Voting 0-15

Total Voting 0-15
Prize:
Mentorship from Industrial Expert to make your game into reality. (Top 3 per category, Public and Student, no ranking)

1x Politiko, 1x Art Book by Centaur and 1x 150MYR Cash Voucher. (Top 3 per category, Public and Student, no ranking)

All Participants will receive 1x Free Entry Voucher AND 1x 10MYR Cash Voucher to visit / redeem at participating FLGS
Competition Calendar:
| | |
| --- | --- |
| Date | Content |
| Week 0 | Competition Launch |
| Week 1 – Jun 9 (WED) | Briefing |
| Week 2 – Jun 16 (WED) | Hwa Siang: Board Game Design Resources |
| Week 3 – Jun 23 (WED) | Shean: How to Print & Play |
| Week 4 – Jun 30 (WED) | Jia Xian: Trading Card Games |
| Week 5 – Jul 7 (WED) | Hwa Siang: Tools for Spicing Up Your Graphics |
| Week 6 – Jul 14 (WED) 10.30pm | Cancelled |
| Week 7 – Jul 23 (FRI) | Choon Ean: Clearing Blocked Paths in the Self-Publishing Journey of Kaki Lima |
| Week 8 – Jul 28 (WED) | Hwa Siang: Board Game Production |
| Week 9 – Aug 4 (WED) | Playtesting Period |
| Week 10 – Aug 11 (WED) | Playtesting Period |
| Week 11 – Aug 18 (WED) | Playtesting Period |
| Week 12 – Aug 25 (WED) | Playtesting Period |
| Week 13 – Sep 1 (WED) | Playtesting Period |
| Week 14 – Sep 8 (WED) | Playtesting Period |
| Week 15 – Sep 15 (WED) | Playtesting Period |
| Week 16 – Sep 22 (WED) | Playtesting Period |
| Week 17 – Sep 29 (WED) | Playtesting Period + Registration End |
| Week 18 – Oct 4 (MON) | Game Progress Show Off + Public Voting |
| Week 19 – Oct 11 (MON) | Progress Report + Round 1 Voting |
| Week 20 – Oct 18 (MON) | Progress Report + Round 2 Voting |
| Week 21 – Oct 25 (MON) | Progress Report + Round 3 Voting |
| Week 22 – Nov 1 (MON) | Prototype send in period |
| Week 23 – Nov 8 (MON) | Prototype send in period |
| Week 24 – Nov 18 (THU) | Final day of Prototype send in period |
Organized by:
Centlus Board Game

Picassor

LUMA
Sponsored by:
Kohii Boardgame Cafe

Centaur
Co-organized by:
Board Game Fantasy

Kaki Tabletop

TTGDMY

Rakan Reka

Hardknocks Creatives